Introducing the Chipsee Industrial Pi for Raspberry Pi Compute Module 4
We are happy to announce the newest addition to our popular Industrial Pi line – the Industrial Pi for the Raspberry Pi Compute Module 4. This is the first industrial PC on the market designed for the CM4.
We are always striving to provide our customers with the most innovative, cutting-edge industrial solutions, and these two new products are one of the best examples.
During 2020, the Raspberry Pi has been sold in over 7 million units all over the world. And it's not all destined to go to embedded applications and hobbyists. According to Raspberry Pi, around 40% of the units go towards industrial applications. This is where our Industrial Pi line comes in to save the day, and to save the time for many engineers and product designers out there. Thanks to our industrial computers designed for the Raspberry Pi Compute Module 4, you can get from idea to finished product in no time.
Right now it comes in two versions:
CM4-70-EM, a 7-inch IPS display with an embedded form factor
CM4-70-PA, a 7-inch IPS display with a panel form factor
These new Industrial Pi are full-featured, rugged, designed, and certified for industrial usage. You can check out the whole product line here.
Industrial Pi specifications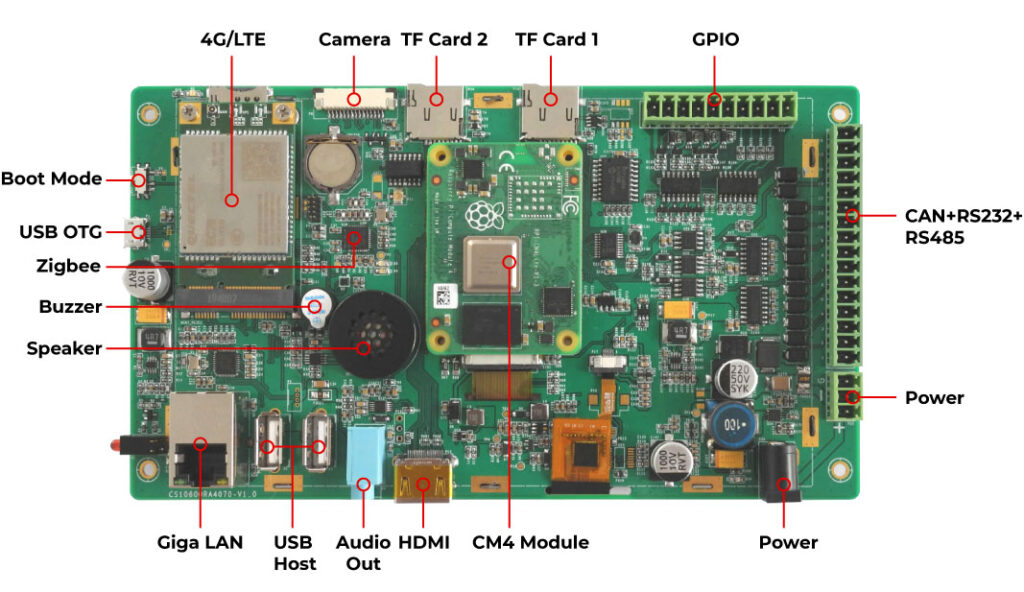 This new Chipsee industrial computer features a 7-inch IPS display with 1024×600 pixels and 500 nits of brightness, and with a 5-points capacitive touch panel.
The Industrial Pi features two TF card interfaces, two USB connectors, and one LAN connector. It also has four RS232 channels, two RS485 channels, one CAN channel, and eight Opto-Isolated GPIOs.
Concerning audio, it has one 3.5mm audio connector, one 2W internal speaker, and one Buzzer.
The module also features onboard WiFi and Bluetooth, and an optional 4G/LTE module.
The Industrial Pi, like other Raspberry Pi based products, supports the Debian 10 operating systems. 
Don't hesitate to contact us if you have any questions.
Explore Custom Design Solutions and Our Extensive Product Line for Your Business Needs!
At Chipsee, we offer customised design solutions and a diverse product line tailored to meet your unique business requirements. Our team of experts is committed to collaborating with you to ensure seamless execution and exceptional results. From concept to realisation, we take pride in delivering excellence in every aspect. For more information or to discuss how we can support your business, please don't hesitate to contact us.
Blog Categories
Latest posts