Introducing the new ARM Cortex-A72 Industrial PC – 15 inches, capacitive touch panel screen
Today we are introducing a brand new Industrial PC to the shop – the PPC-A72-156-C. An ARM Cortex-A72, 15.6-inch capacitive touch panel PC.
With its low-power and high-performance processor, and top of the line hardware features it's ready for any Industry 4.0 project. It's truly, the most powerful Chipsee Industrial PC so far.
WiFi and Bluetooth included
The WiFi/Bluetooth module is based on the Realtek RTL8723BU an 802.11bgn 2.4G single-chip that integrates Wireless LAN (WLAN) and a network USB interface (USB 1.0/1.1/2.0 compatible) controller with integrated Bluetooth 2.1/3.0/4.0 controller.
It combines a WLAN MAC, a 1T1R capable WLAN baseband, and WLAN RF in a single chip.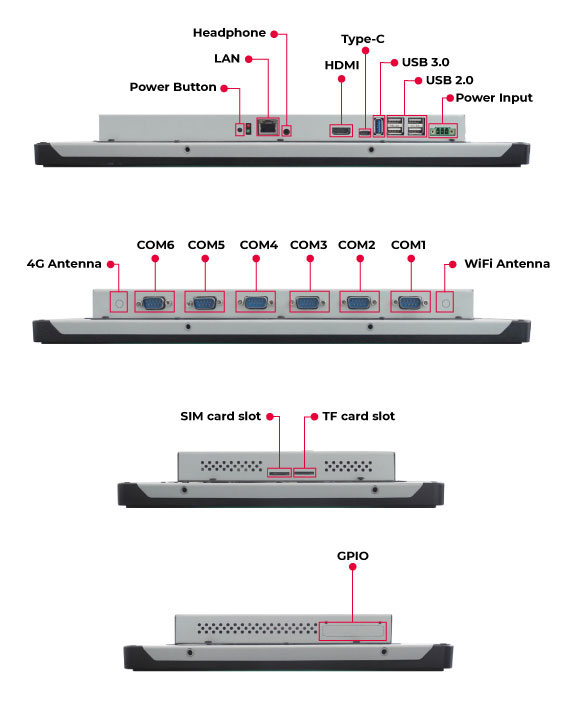 The PPC-A72-156-C has several expansion connectors on the back side – 4 USB 2.0 connectors, 1 LAN connector, 4 RS485 connectors, and 2 RS232 connectors. It also features a 3.5mm audio connector and a TF card slot.
System-on-Module
As we mentioned above, PPC-A72-156-C features the i.MX6UL ARM Cortex-A72 processor – a high performance, an ultra-efficient processor that implements the Armv8-A architecture. The fast processing of Cortex-A72 is particularly suited to mobile applications.
A 10-point capacitive touch panel
The PPC-A72-156-C has a 15.6'' 10-point capacitive touch screen, with a 1920×1080 resolution. 10-point capacitive touchscreens offer stable and accurate control over the device.
To learn more about PPC-A72-156-C visit the product page.
Explore Custom Design Solutions and Our Extensive Product Line for Your Business Needs!
At Chipsee, we offer customised design solutions and a diverse product line tailored to meet your unique business requirements. Our team of experts is committed to collaborating with you to ensure seamless execution and exceptional results. From concept to realisation, we take pride in delivering excellence in every aspect. For more information or to discuss how we can support your business, please don't hesitate to contact us.
Blog Categories
Latest posts