New Chipsee Industrial Embedded Computers – EPC-A72-70-C and PPC-A72-70-C
We have just added two new industrial PC to our offer – the EPC-A72-70-C and the PPC-A72-70-C.
They both feature a 7 inch LCD with a five-point capacitive touchscreen, an ARM dual Cortex-A72 (1.8GHz) plus Quad Cortex-A53 (1.4GHz) processor. What is the difference between the two?
EPC-A72-70-C comes in an embedded form factor, and PPC-A72-70-C comes in a panel form factor (you can see this in the image below):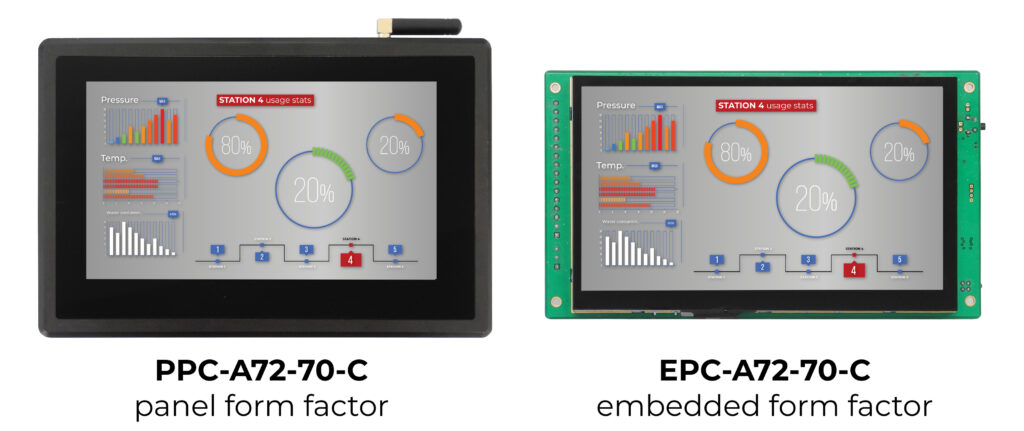 Features
The EPC-A72-70-C is the perfect tool for your next industrial project or prototype. It offers 1Gb Ethernet, 1 USB 2.0 port, 1 USB 3.0 port, 1 Type-C port, 1 LAN port, 4 RS232 connectors, and 2 RS485 connectors, as well as a 3.5mm audio connector. Also, it supports Chipsee Linux OS, and Android 7.1 OS. You can choose between the two on the product page.
Display
The EPC-A72-70-C has a 7'' five-point capacitive touch screen, with a 1024×600 resolution.
Customization
If you need a customized solution, feel free to contact us with your project requirements. Our team will do the rest.
Explore Custom Design Solutions and Our Extensive Product Line for Your Business Needs!
At Chipsee, we offer customised design solutions and a diverse product line tailored to meet your unique business requirements. Our team of experts is committed to collaborating with you to ensure seamless execution and exceptional results. From concept to realisation, we take pride in delivering excellence in every aspect. For more information or to discuss how we can support your business, please don't hesitate to contact us.
Blog Categories
Latest posts