Hardware Features
The AIO-CM4-156 is an all-in-one desktop computer, certified for industrial usage, ready to deploy desktop and industrial applications based on the Raspberry Pi Compute Module 4.
It gives you the advantage of numerous open source communities dedicated to the Raspberry Pi, ever-growing GitHub repositories, and endless examples online. All the resources are at the tip of your fingers, and now, you can use them for your next desktop or industrial solution.
The AIO-CM4-156, which comes with a Raspberry Pi CM4 of your choice, features a 15.6-inch IPS display with a 2mm protective Armoplated Glass, capacitive touchscreen, and optional internal 250GB Sandisk NVMe SSD.
It offers all the standard Raspberry Pi ports: two USB 3.0 ports, one USB-C OTG port, 1GB Ethernet port, HDMI output for an additional monitor, micro SD slot, audio out, internal stereo speakers, and the full I/O 40-pin header.
The AIO-CM4-156 is 100% compatible with any Raspberry PI OS.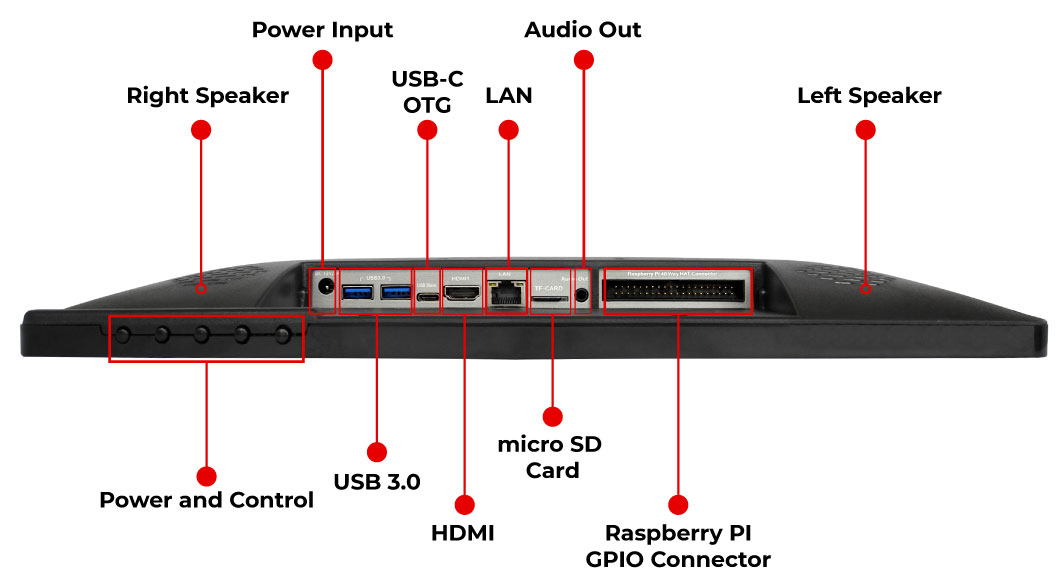 Performances and reliability
The AIO-CM4-156 has Raspberry Pi CM4 at its core. You can download the official Raspberry Pi Linux distribution (Raspberry Pi OS) and turn it on without any modification. There is an available I/O connector that is 100% compatible with any Raspberry Pi cape, or extensions, making the AIO-CM4-156 a perfect fit with your existing tools.
The product also comes with an adapter, with a standard Raspberry Pi Hat pinout, to add more flexibility to your project. It offers a convenient way to develop and test your hardware with all the connectors at hand. You can learn more about it in the product manual.
Operating System
The AIO-CM4-156 is fully compatible with the official Raspberry Pi OS, and there's no need for extra software drivers. It comes pre-installed with Debian OS, but you can install any other OS of your choice. Install the OS on the micro SD card, just like a standard Raspberry Pi 4.
The AIO-CM4-156 comes with Debian 10 or Android 13 preinstalled. With Android 13 some of the hardware features will be disabled.

| | |
| --- | --- |
| Weight | 5000 g |
| Dimensions | 374 × 303 × 123 mm |
| Dimensions Without Stand | 374 x 238 x 33 mm |
| Form-factor | All-In-One |
| CPU | ARM Cortex-A72: Raspberry Pi® CM4 |
| Display Size (inch.) | 15.6" |
| Resolution | 1920*1080 |
| Brightness (NIT) | 350 NIT |
| Touch Screen | Capacitive |
| Storage | TF card slot for boot. Internal M.2 NVMe connector for SSD card. |
| Micro SD card socket | For use only with CM4 Lite modules |
| USB | 2 x USB 3.0 Host connector, 1Type-C USB Slave connector. |
| GPIO/Wiegand | Raspberry Pi 40-pin GPIO connector. |
| HAT connector | Standard Raspberry Pi 40-way HAT connector. |
| Ethernet | 1x Giga LAN |
| Camera | Camera on the front panel, NOT mounted by default |
| Audio | 2W internal stereo speaker, 3.5mm audio Out connector. |
| Buzzer | Yes |
| RTC | High accuracy internal RTC (keep track of time one week after power off) |
| OS | Android, Debian |
| Power Input | 12V DC |
| Power Consumption | 10W |
| Current @ 12V | 700 mA max |
| Working Temperature | 0℃~50℃ |
| Plastic Case Color | Black |