Hardware Features
The PPC-CM4-070 is full-featured, rugged, designed, and certified for industrial usage, ready to deploy industrial applications based around the Raspberry Pi® Compute Module 4. The metal enclosure is available in two colors: black and grey.
The Compute Module 4 appears in different versions depending on the size of the DDR4 and eMMC. By default, a Compute Module 4 is not included in the product. If you would like to purchase it with a CM4, please choose one from the drop-down menu.
The PPC-CM4-070 has a 5-point capacitive touch screen, with a 1024×600 resolution, that offers stable and accurate control over the device and great image clarity. They are also very durable and resistant to environmental contaminants like dust and water. These screens work best with either a finger or a stylus with a conductive tip. 
The PPC-CM4-070 features two TF card interfaces, two USB connectors, and one HDMI and LAN connector. It also has two RS232 channels, one RS485 channel, and eight Opto-Isolated GPIOs.
Concerning audio, it has one 3.5mm audio connector, one 2W internal speaker, and one Buzzer.
Please note that the 4G/LTE module does not come with the product by default, but can be added.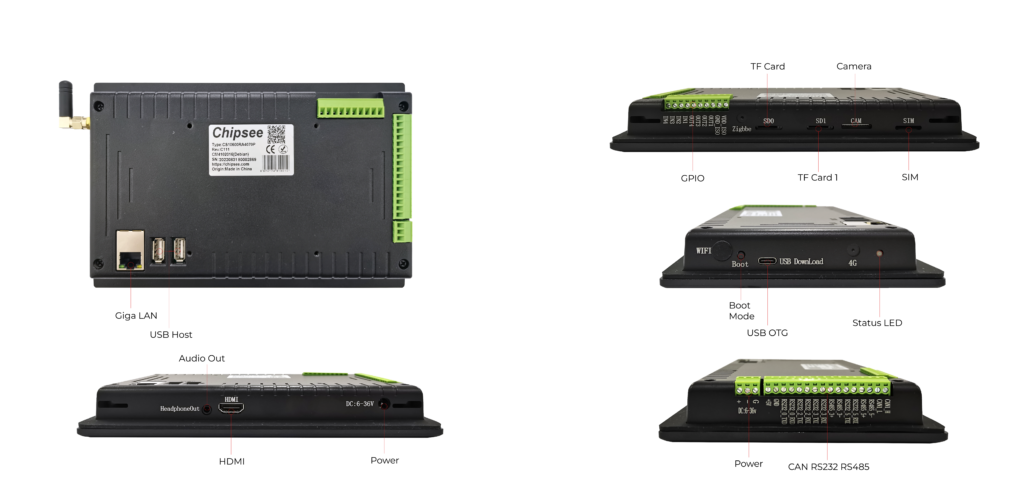 Raspberry Pi Compute Module 4
This IPC core is the Raspberry Pi CM4, powered by a high-performance Broadcom BCM2711 (RPi 4) application processor.
The BCM2711 has the quad-core CPU design of the BCM2837 but uses the more powerful ARM A72 core. It has a greatly improved GPU feature set with much faster input/output. It is also capable of addressing more memory.
The BCM2711 chip continues to use the heat-spreading technology that started with the BCM2837B0, which provides better thermal management.

Raspberry Pi OS
All Raspberry Pi-based products come with the latest version of Raspberry Pi OS already installed. For specific models, such as the AIO-CM4-101 and the AIO-CM4-156, it is also possible to choose Android 13 or Ubuntu 20.4 as preinstalled OS.
We've taken care of all the necessary drivers, so you can easily access every hardware feature using any standard development tool. In the event that your project requires an OS that is not on the list, feel free to reach out to us, and we'll create a customized version that meets your specific needs.
| | |
| --- | --- |
| Weight | 1500 g |
| Dimensions | 206 × 135 × 28.5 mm |
| Product Weight | 700 g |
| Form-factor | Panel |
| CPU | ARM: Raspberry Pi® CM4 |
| Display size | 7.0″ |
| Resolution | 1024*600 |
| Brightness (NIT) | 500 NIT |
| Touch Screen | Capacitive |
| FLASH | 16GB |
| External storage | 2 TF card slots. One is designed for Lite version that has no eMMC. The other one is designed for storage expansion. |
| WiFi/BT | Depends on the Compute Module 4 selected. |
| ZIGBEE | Optional |
| 4G | Support miniPCIe slot for 4G/LTE module (neither miniPCIe Slot nor 4G LTE module is mounted by default.) |
| Ethernet | 1x Giga LAN |
| Camera | There is a camera connector compatible with the Raspberry Pi Camera connector (the camera is NOT mounted by default). |
| Audio | 3.5mm Audio Out Connector, Internal 2W Speaker |
| Buzzer | Yes |
| HDMI | Yes |
| USB | 1x miniUSB OTG, 2x USB 2.0 HOST |
| RTC | High Accuracy RTC with Lithium Button Coin battery (Lithium Battery not included) |
| GPIO | Opto-Isolated GPIO, 4 Input, 4 Output, can drive up to 500mA current every Channel at most (external power source needed) |
| RS485 | 2 Channels at most. The RS485 circuit controls the Input and Output direction automatically, there's no need to control it from within the software. |
| RS232 | 4 Channels at most |
| CAN | 1x CAN |
| OS | Raspberry Pi OS |
| Power Input | 9V~36V DC |
| Power Consumption | 5W |
| Current @ 12V | 420 mA max |
| Working Temperature | 0°C to +60°C |
| Mounting Method | Panel Mounting & VESA |