Hardware Features
The PPC-A9-070-C has several expansion connectors on the back side – 3 USB 2.0, 1 USB OTG, 1 LAN, 2 CAN, 2 RS485, and 2 RS232. It also features a WiFi and Bluetooth antenna, an HDMI port, and a 3.5mm audio connector.
The CAN, RS485, and RS232 connector is a 16 Pin 3.81mm screw terminal connector (as you can see from the image).
Since this display has 5 UART channels, they can be configured as RS232 or RS485. One UART channel is used by Bluetooth – the default setting is 2x RS232 + 2x RS485 + Bluetooth. Please contact us if you require a different configuration.
The RS232 and the RS485 port speed is up to 115200 Baud.

The PPC-A9-070-C has one channel 1Gb Ethernet port and one HDMI port which can be configured by software. The maximum resolution supported on the external HDMI monitor is 1920×1080 at 60Hz.
When it comes to audio capabilities, the PPC-A9-070-C has one 3.5mm Output/input connector and a 2W  internal speaker.
The PPC-A9-070-C uses a wide range of power input: DC 6~36V. The typical power consumption is 6W.
The PPC-A9-070-C features a 7'' display with a 1024×600 pixel resolution, and a 5-point capacitive touch screen. 5-point capacitive touchscreens offer stable and accurate control over the device, as well as great image clarity.
The screen offers a very high brightness of 500 nits (or 1,713 ANSI Lumens). Regarding the viewing angle, the screen offers various angles: top, bottom, left, and right view.
If your application requires a secondary display the HDMI port on the back of the panel allows the device to work in a double monitor configuration up to 1920×1080 pixel resolution at a 60Hz refresh rate.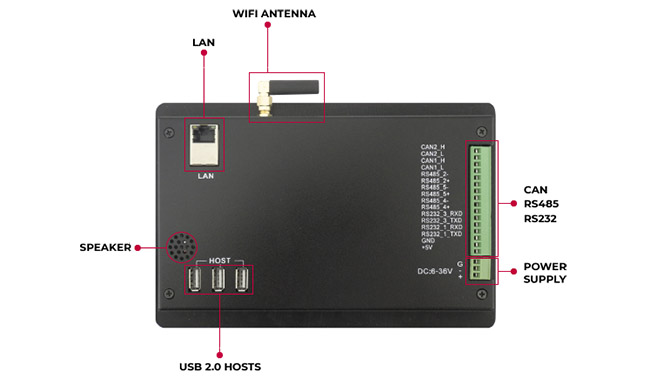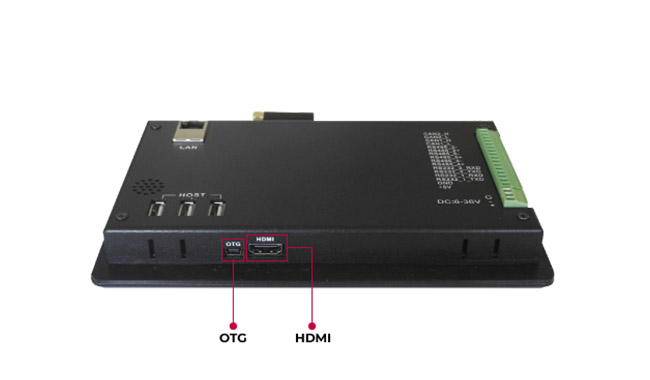 Performances and reliability
At the core of each Chipsee product lies a SOM (System-on-Module). All our products share the same core. This System-on-Module makes it possible to integrate a whole computer into a device, significantly simplifying the customization of the product. It makes your application easily upgradable – without needing to rewrite a single line of code your application is upgraded.
This product features the .iMX 6 series of application processors, the CS-SOM-iMX6Q.
The .iMX6Q Quad processor represents the latest achievement in integrated multimedia applications processors. They feature advanced implementation of the quad Arm® Cortex®-A9 core, which operates at speeds up to 1.2 GHz. They include 2D and 3D graphics processors, 1080p video processing, and integrated power management. Each processor provides a 64-bit DDR3/DDR3L/LPDDR2 memory interface and a number of other interfaces for connecting peripherals, such as WLAN, Bluetooth®, GPS, hard drive, displays, and camera sensors.

Multiple OS choices
This product comes with a pre-installed OS of your choice. Please use the drop-down menu to choose the one you need, and we'll pre-install it for you.
It supports the following operating systems:
Chipsee Linux *

Android 4.3

Android 6.0

Android 8.0

Ubuntu 12.04

Ubuntu 14.04



* Chipsee Linux is based on NXP Yocto framework that we have integrated with:
A Chipsee Hardware Test Application.

An initialization script for GPIO/Buzzer/Audio.

Multiple libraries, such as the libQt5Sql to develop Qt application with SQL.

 Various packages, such as the ntfs-3g to use NTFS.
Chipsee software engineers have created all the drivers, so every hardware feature is readily available for any standard development tool. If your project requires an OS that is not on the list, please contact us, and we'll make a customized version that suits your needs.
| | |
| --- | --- |
| Weight | 680 g |
| Dimensions | 206 × 135 × 30.1 mm |
| Form-factor | Panel |
| Display Size (inch.) | 7.0" |
| Resolution | 1024*600 |
| Brightness (NIT) | 500 NIT |
| Touch Screen | Capacitive |
| CPU | ARM Cortex A9: NXP iMX6Q |
| Frequency | 1 GHz |
| RAM | 2GB DDR3 |
| FLASH | 8GB |
| Bluetooth | Onboard Bluetooth |
| WiFi | Onboard WiFi |
| HDMI | 1x HDMI |
| SATA | 1x SATA II |
| Ethernet | 1x LAN 1000M |
| USB | 1x USB 2.0 OTG, 3x USB 2.0 HOST |
| GPIO | 8x GPIO |
| RS485 | 2x RS485 |
| CAN | 2x CAN |
| RS232 | 2x RS232 |
| External storage | TF (microSD) Card Slot |
| Audio | 3.5mm Output/input Connector, Internal Speaker |
| OS | Chipsee Linux Qt |
| Power Input | 6~36V DC |
| Power Consumption | 6W |
| Certification | CE |
| Working Temperature | -20°C ~ 70°C. |
| Buzzer | Yes |
| Mounting Method | Panel Mounting |